Thaumatrope Set 'Alice'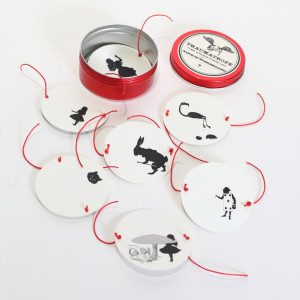 7000 HUF
Hurry! Only 5 items left in stock.
Add to wishlist
Check delivery time
Thaumatrope Set 'Alice'
This thaumatrope set features scenes from Lewis Caroll's book to help you tell the story of Alice in Wonderland. The discs are a rethinking of the original illustrations. There are seven ready-to-use thaumatrope discs in the practical metal box.
Size: Diameter: 8.5 cm Height: 4 cm
---
http://manufaktor.co.uk/thaumatrope-set-alice_79772
---